Bryn
Bryn, unlucky at losing in American Idol mate. But don't worry, you made us all proud. Its just a shame only 5 people voted for you.
---
---
The first member of our very own Computer Science department to get through to the final of American Pop Idol. Congratulations Bryn.
---
Make your vote count and vote for Bryn:
             Bryn | *****
Other Contestents | 

Go on my son!!!
---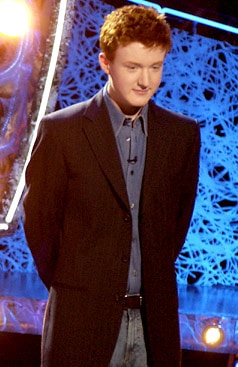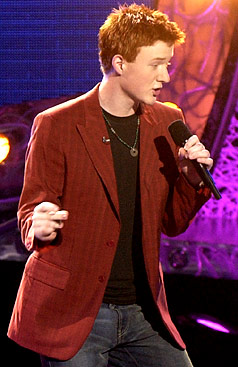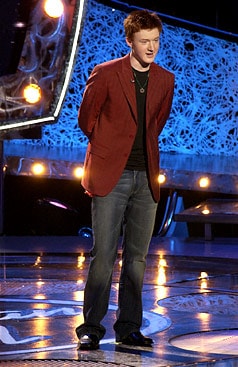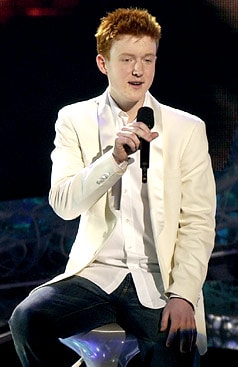 ---
Official Idol Website Initial Interview:
Q. When did you first start to sing?
A. Four years old – elementary school.
Q. Do you have any formal singing training?
A. Received private lessons from a teacher.
Q. What other talents do you have?
A. Playing piano, impersonating movie characters and singers.
Q. If you don't make it on AMERICAN IDOL, what will you do?
A. I will still go to school, and carry out my normal life.
Q. What are your personal goals in life?
A. To become a famous entertainer, to be fluent in Italian.
Q. What album would your friends be surprised you own?
A. Coldplay.
Q. What is the first CD you ever bought?
A. Frank Sinatra Greatest Hits.
Q. What is in your CD player right now?
A. Frank Sinatra "Come Swing With Me".
Q. Who is your AMERICAN IDOL?
A. Frank Sinatra
Q. What is your favorite type of music?
A. Big Band
Q. What is your favorite song to sing?
A. "The Way You Look Tonight"
Q. Favorite male pop artist?
A. John Mayer.
Q. Favorite female pop artist?
A. Don't have one.
Q. Favorite album of all time?
A. Don't have one.
Q. Who in the music world do you think your style is most like?
A. Frank Sinatra.
Q. Most embarrassing moment?
A. Don't have one.
Q. If you couldn't sing, which talent would you most like to have?
A. To be able to dance well.
Q. What has been your proudest moment in life so far?
A. Making American Idol.
Q. What is your definition of an AMERICAN IDOL?
A. Someone everyone can look up to and idolize, and someone who performs so well it amazes everyone.
Q. Why do you want to be an AMERICAN IDOL?
A. I would love to be the American Idol because I think I could be able to capture the audience and express my love of music to the world.
Q. Who is your favorite judge and why?
A. Simon, because he is the most honest. Brutally honest, but honest.
Q. Who is your least favorite judge and why?
A. Randy, cause he says "dog" too many times.
Q. What advice do you have for other hopefuls?
A. Keep going for your dreams. Never give up.
Q. What would people be surprised to learn about you?
A. I become a different person when I perform. I become less self conscious
---
Is Shy Bryn Idol Material? by Daniel R. Coleridge
Shyness and stage fright can spell doom for performers. Especially on the ultra-competitive American Idol, where those fickle, temperamental judges and home viewers decide your fate like spectators in the Roman coliseum! So does Bryn Salisbury — that mild-mannered 16-year-old carrot top who idolizes Frank Sinatra — even have a prayer? Here, TV Guide Online probes Salisbury, now one of two finalists from Group 4, to see if he really has the makings of an Idol champ.
TV Guide Online: Do you mind comparisons to Clay Aiken, the geek who made good? Bryn Salisbury: He's a star! I appreciate any comparisons that could be made between me and him.
TVGO: You're quiet for an aspiring pop star. Will you try to be more extroverted?
Salisbury: I guess it's always been hard for me, but I'm working on it. Hopefully, it'll get better. It depends on whether I'm comfortable with who I'm talking to. The more comfortable I am with you, the more outgoing I am.
TVGO: Showbiz is another story, though. You're expected to be "on" with zillions of strangers. How might you improve?
Salisbury: Work on confidence. Some people lack confidence — or maybe they're just not talkative. But you have to remember you have just as much to offer as anyone else.
TVGO: Your red hair is cute, but do you catch any grief for looking different?
Salisbury: In middle school, I did. I got a lot of problems with kids over my hair. I had glasses, I had braces, I was shorter, I was whiter… [Laughs] But in high school, I don't have any problem.
TVGO: Maybe you should go Mystic Tan! Anyway, the judges criticized you for moving away from singing Sinatra-style. Did you mind?
Salisbury: I was pretty frustrated because they told me I should go away from Sinatra. When I did, they told me to go back! They missed it. I'm good at that, so of course, they're going to miss it. They're very tough to please.
TVGO: Which judge is toughest?
Salisbury: For me, Randy Jackson. Simon has really been pretty nice to me. I guess Randy favors R&B, and I'm definitely not an R&B singer. So I guess I have a disadvantage there, but you can't please everyone.
TVGO: Going forward, will you change your style?
Salisbury: Hopefully, I can still try to go into the pop stuff, but still have my style. I'll see where that takes me. If that doesn't work, I can always go back to Sinatra, but Sinatra doesn't work with all the different [musical] genres they give me.
TVGO: Do you regret singing "She's Always A Woman," since the judges suggested the song didn't suit you?
Salisbury: [Sighs] Not really. I knew I hadn't done my best. If I had done my best, they wouldn't have said that. I guess I let nerves get me a little bit. Listening to the criticism of the other singers before I sang got to me. I let the nerves hurt my performance.
TVGO: By the way, who got you so hooked on Old Blue Eyes?
Salisbury: My grandfather. He's still with us. He's 84.
TVGuide.com ~ 2004
---
High school crooner advances on "American Idol March 4, 2004, 12:53 PM EST
EAST AMHERST, N.Y. — A high school crooner with Frank Sinatra-style who made it to the final dozen on "American Idol is already a winner with his hometown fans.
Bryn Salisbury IV was the top vote-getter among the eight singers in this week's round of the Fox Television talent show. The 16-year-old Williamsville East High School student took 28 percent of votes cast by the viewing public for his rendition of Billy Joel's "Always A Woman."
A lot of those votes were from Salisburys' classmates in this Buffalo suburb, where students have made parties of viewing the show.
Although Salisbury is heavily influenced by his own idols, Frank Sinatra and Dean Martin, his fans say there is room for him in today's music world.
"Pop is really not his style. He's singing this old style, and it's really good, and he's bringing that to pop music," said Jeremy Williams, a Williamsville East junior. "He really has something different than the others."
(Newsday.com – 2004)
---
Jasmine Trias and Bryn Salisbury advance to 'American Idol' Top 12 as Wild Card contestants revealed
By Steve Rogers, 03/04/2004
Last night in a dramatic results show, it was announced that Jasmine Trias from Mililani, HI and Bryn Salisbury from East Amherst, NY were chosen by America to become the next two contestants to make the Top 12 on American Idol.
During Tuesday's performance show, Trias impressed the judges with her rendition of "Run to You." Salisbury entertained the audience with his rendition of "She's Always a Woman." Over 25 million viewers tuned in to Tuesday's performance show, which dominated the time period and was the highest-rated program of the night.
Trias and Salisbury were the two top vote-getters in their group and have advanced to the finals, joining Fantasia Barrino, Diana DeGarmo , Camile Velasco, Matt Rogers, La Toya London and Amy Adams in the Top 12.
(RealityTVWorld.com – 2004)
---
Williamsville East student croons way into Top 10 on 'American Idol' By HOLLY AUER News Staff Reporter 3/4/2004
Because of his old-school style, Bryn Salisbury IV has become a hit with "American Idol" viewers.
With his pinstriped "magic suit" and dreamy croon, Bryn Salisbury IV may be ripping the spotlight away from the antics of Justin Timberlake and his pop music brethren. At least, that's what teenagers around Buffalo say about the hometown boy who's hitting it big on Fox's "American Idol." Wednesday, the nation agreed and voted Salisbury into the Top 10 of the national competition.
Everyone's wild about the admittedly un-Idolish contestant because he offers something the competition hasn't seen in its first two seasons – a polished, old-fashioned singing style and on-camera manners so good Emily Post could learn a thing or two from him.
Tuesday night, the 16-year-old Williamsville East High School student competed in Hollywood against eight others – all older than he.
After Salisburys' Tuesday night performance of Billy Joel's "Always a Woman," Simon Cowell, the snarky British record producer, said he didn't particularly like the rendition but he thought Salisbury belonged in the competition because he's unique.
Wednesday, Cowell gloated that he had predicted the results. Salisbury might be this season's Clay Aiken – a recovering geek who catapulted to the top of the charts this winter after a second-place finish on "Idol." But instead of cheesy 1980s ballads, he has been mining a genre born decades before he was.
By resurrecting his own idols, Frank Sinatra and Dean Martin, he appeals to local teens and the "Idol" judges alike, from the dippy Paula Abdul to the scathing Cowell.
Wednesday afternoon, students camped out in the Williamsville East High School cafeteria watching tapes of the previous night's show on television sets suspended from the ceiling. "See How Bryn Does, Tonite at 8:30 p.m.," said red lettering flashing on the screen.
Girls wearing frosted eye shadow and guys in backward baseball gaps were all in his thrall, after having spent two hours dialing into the show to cast votes for him last night.
The school held an ice cream social when the initial rounds of the competition aired. And back then, since the shows were taped in advance, Salisbury sat in their midst as they watched.
Girls hugged him; boys envied him; and everyone was "flipping out" to see him appear on the show.
For this former "loner," as he recently called himself, it was all quite an adjustment.
But he had been building a strong fan base even before that, through his roles in the school's annual plays and his participation in the Western New York Children's Chorus.
Plus, he's just a really nice guy – the sort of guy any teen girl's father would feel safe sending his daughter out with.
He sang the national anthem and his "signature" Sinatra song at Williamsville East's Sadie Hawkins dance this fall, where he was "definitely not having a problem" finding ladies to hang with, said Scott Campbell, who played the evil Bill Sykes in the school's production of "Oliver!" last week.
By Wednesday afternoon, Salisbury was holding in second place among his "Group Four" peers in an online poll. He trailed only Hawaii's Jasmine Trias – who will join him in the Top 10 – but led uber-nice guy George Huff by just 1 percentage point.
Even youngsters who never have met Salisbury tied up the phone lines to register a vote for him Tuesday night. Meg Healy, a City Honors freshman, struggled to get through on the "Idol" hotline to register her vote. She always had been a fan of the show, but Salisburys' appearance "really enhanced" her interest.
"He's a good representation of Buffalo because it's a different kind of town, and he's a different kind of person," she said.
Although Salisbury won Wednesday, the show's judges previously expressed some concern that he may be a one-trick pony, unable to adapt to the show's pop-fueled demands.
But his pals are convinced his old-school style will set him apart from the sequined screamers who tend to dominate the show in the early stages.
And serious handicappers say that if he can make it to the round in which Barry Manilow judges, he'll be a shoo-in for making it to the top.
"Pop is really not his style. He's singing this old style, and it's really good, and he's bringing that to pop music. He really has something different than the others," said Jeremy Williams, a junior at Williamsville East who stepped up to play Fagin in "Oliver!" after Salisbury got his call from "Idol" and had to bow out of the role.
Students at Williamsville East say they have no doubt Salisbury someday will get a record deal, whether he wins the show or not, but they can't help but be a little in awe of all the hype that surrounds his advancement on the program.
"There's blends and wallpapers of his face" on Internet fan sites, Maria Droz said. "It's like he's this phenomenon, but he's not a phenomenon to us – he's just a really nice, normal person who got to show his talents."
---
Williamsville student pins 'Idol' hopes on Sinatra melodies
3/2/2004
"I feel ready to do this," Bryn Salisbury IV says of tonight's competition on "American Idol."
By ALAN PERGAMENT 

A few weeks ago, Bryn Salisbury IV was wearing out the carpet in the family room of his East Amherst home, memorizing his songs and lines for the lead role of Fagin in the Williamsville East production of "Oliver." Then the phone rang and changed the high school junior's plans. The producers of the Fox hit, "American Idol" (8 tonight, Channel 29), told Salisbury he was going to have to perform this week in front of millions of TV viewers instead of a high school audience.
The slender, 6-foot-1-inch redhead was initially disappointed that he was chosen to perform in the last of four groups of eight contestants for the Fox hit. After all, the odds were one in four that he would be able to do both "Idol" and "Oliver." And after having beaten much bigger odds than that just to become one of the final 32 hopefuls of becoming the "American Idol," Salisbury certainly had to like those chances.
"At first, I was upset," said Salisbury of having to pass on the musical.
"But this is a once-in-a-lifetime thing and there is a musical next year," said his mother, Lynn.
Salisbury, chatting in Williamsville last week before heading to Los Angeles, discussed his journey from a young Frank Sinatra fan with self-esteem issues to the confident performer who will try to wow Simon, Paula and Randy again tonight.
His love of Sinatra and older music is a gift from his grandparents, Roy and Isobel Boller of the Town of Tonawanda. His grandmother was a classically trained pianist with the Royal Academy of Music in Scotland. At the age of 6 or 7, he spent a lot of time listening to Sinatra and going to the Buffalo Philharmonic with his grandparents.
"(Sinatra's) my favorite singer and I started singing his songs and buying his CDs," said the 16-year-old Salisbury, dressed in blue jeans and a sweater. He owns 32 Sinatra CDs.Salisbury has qualified for some prestigious local choral groups. His voice coach, John Fleischman, first heard Salisbury when he was chosen for Western New York Children's Chorus.
"He's so natural, there's nothing put on," said Fleischman, who is the director of the chorus. "He just has a lovely natural talent."
"There's something about him," added Fleischman, who has been his coach for the last two years. "When you first meet him, he is so so quiet and shy you wouldn't expect him to be outgoing when he stands up on stage and does it."
Salisbury admits he had self-esteem issues through his middle school years when his classmates questioned his old-fashioned musical taste, which included Sinatra, Billy Joel, Dean Martin and Sammy Davis Jr.
"I felt very self-conscious and alone," said Salisbury. "I was a loner."
He does like some contemporary music, with the list of favorites including Cold Play, John Mayer, Dave Matthews and Bruce Springsteen. But he admits he sometimes feels like he was born in the wrong century. And not just because of his musical taste.
"Yup," agreed Salisbury. "Basically, I'm told I'm a lot more of a gentleman, there's my hair style and I have old-fashioned values."
Things starting improving socially for him in the eighth grade.
"Frank Sinatra (music) started coming back, Harry Connick Jr. was coming out," said Salisbury.
It was as if he were ahead of his time, even though he was 50 years behind his time. And his esteem level increased when he was chosen for chorale at Williamsville East as a freshman, the highest level you can achieve at the school.
A fan of the first two "American Idols," Salisbury made the minimum age deadline by a week and a friend persuaded him to enter. His expectations were low at the auditions in New York City, but at least he could finally see the city, "New York, New York," that Sinatra sang about.
"I didn't think I was good enough for "American Idol,'" said Salisbury.
"I was surprised," Fleischman said of Salisburys' entry. "I didn't think his personality was the type to go stand in line for five days with 2,000 people. Then I discovered the other side of him, which is delightful."
The 11,000 people ready to audition were cut to 500 by producers before 120 or so went in front of Simon, Paula and Randy. Salisbury auditioned by impersonating Dean Martin, then sang "The Way You Look Tonight." Simon said great song, great voice; Paula said real good job, and Randy said he loved the whole Frank Sinatra, (Canadian singer) Michael Buble thing.
He made it as one of 117 candidates sent to Los Angeles. After he forgot the words to a song in his next appearance, Simon blasted him. His mother said her goodbyes, thinking it was over.
"I did mess up, I accept my faults," said Salisbury, who thought he was history. But he nailed his next number, "I Left My Heart in San Francisco." Off of that performance, he made the final 32. He no longer feels like he doesn't belong on the show.
"That ended the minute I made it in New York," said Salisbury. "I feel ready to do this."
The way he looks tonight will be different than the way he was last seen on "Idol." He headed to L.A. with a more contemporary haircut, which he says he'll change back if the producers don't like it. He knows he has to guard against a case of nerves, which is something any performer has to fight even if the audience they face isn't as rough as Simon can be.
"Right now, the only competition for me is myself," said Salisbury. "My nerves. I usually deal with it, unlike the last couple of times on "American Idol.'"
In a way, Salisbury has won already. The former loner admits there are some perks to go along with his local celebrity.
"I still have a lot of friends, I've gotten more," said Salisbury. "I've signed countless autographs. And there's the girls. It's definitely a perk."
Sinatra could have told him that.
(BuffaloNews.com – 2004)
---
'Idol' judges pan Salisburys' 'valiant effort' By HOLLY AUER and DALE ERSON News Staff Reporter 4/7/2004
ROBERT KIRKHAM/Buffalo News Bryn Salisbury IV took a drubbing from judges for his take on "Crocodile Rock."
Will his fans keep Bryn Salisbury IV alive for another week on Fox's "American Idol" competition? If they do, it's sure to ignite still more criticism of the show's telephone voting system. People already are complaining because some of the most competent performers keep coming in last.
Salisbury took a drubbing from the judges on Tuesday night's broadcast, which featured all nine remaining contestants tackling the songs of Elton John.
The Williamsville East High School junior used this occasion to break away from his style as a crooner. He sang a number that his favorite, Frank Sinatra, never attempted – "Crocodile Rock."
Sinatra stayed away from it for a good reason. In a taped introduction, Elton John himself warned, "He's chosen a novelty song and it can either go for you or against you."
Judge Randy Jackson, after proclaiming it "a valiant effort," condemned it as "the worst high school play I've ever seen."
After criticizing him for hitting bad notes, judge Paula Abdul gave him points for the boldness of his attempt.
"I think you did something that was great," she said. "You showed . . . you could break out of the box you were in. You had fun. That means a lot. But you're going to have to work harder on your vocals."
Judge Simon Cowell, who ordinarily shows no mercy, tried to soften the blow.
"That was awful," he said to the somewhat downcast Salisbury. "I'm sorry, Bryn, but I like you and that was not you."
On Tuesday, Salisburys' picture appeared alongside a USA Today story highlighting the controversy around last week's results show. Two of the show's favorites wound up as the bottom three vote-getters, while Salisbury – who has sung off-key in several performances and even forgotten lyrics – remained safe.
The results led some "Idol" fans to cry foul, claiming that the voting must be fixed, but producers insist the phone-in vote tabulations are fair and accurate.
With 10 contestants vying for votes last week, it's uncertain how many votes actually separated the bottom three vote-getters – Jennifer Hudson, LaToya London and Amy Adams, who ultimately got booted – from the rest of the pack.
And after a lackluster performance of "My Girl" – which judge Simon Cowell called Salisburys' "worst work by a mile" – on Tuesday night, even Salisbury himself looked surprised not to land among the night's losers.
But Salisbury has his fans and they aren't all teenagers.
Robert Thompson, director of Syracuse University's Center for the Study of Popular Television, said, "This kid is so, kind of, "dorky-chic.' Some of these people on the show are so slick and evocative of other stars, but when he comes out, it's a bit of "Who is this guy?' He seems like an incredibly cool guy in that hip-to-be-square way."
Regardless of how Salisbury ultimately fares on the Fox show, Thompson said he is a rare entertainer who could put out an album of old standards that would appeal to listeners young and old.
---
Red-headed crooner Bryn Salisbury , the 16-year-old boy-next-door type from East Amherst, N.Y., was cut from Wednesday night's "American Idol."
After last week's viewer vote went against favorite Jennifer Hudson, the show's judges said Wednesday night's results made more sense.
"Definitely the right bottom three tonight," judge Randy Jackson said of the voting.
Salisbury even told "Idol" host Ryan Seacrest he was "somewhat" relieved that his journey had ended. Many "Idol" fans felt Salisbury should have been voted off weeks ago.
Last week's results, when Hudson was booted, caused a major brouhaha that included claims of rigged votes and racism. That week, the singers dubbed "The Three Divas" — Hudson, Fantasia Barrino and La Toya London — ended up with the low vote counts. Pop star Elton John, who has participated in the show recently, fueled the controversy when said he suspected racial bias was a factor in the voting. Hudson, London and Barrino are all African American.
But London, Barrino and Diana DeGarmo were in the top tier Wednesday night while Salisbury was up for elimination with George Huff and Jasmine Trias.
Judge Simon Cowell said Wednesday that if the contest was based solely on talent, London and Barrino would be the finalists, but he predicted DeGarmo would edge out Barrino in the final two.
Cowell also told Salisbury he "took every bullet like a man" throughout the show.
More than 28 million people voted after Tuesday's live episode, when the contestants performed the music of Gloria Estefan – who was the guest judge that night.
The live finale of the show that's been averaging upwards of 20 million viewers a week airs next month.
---
Bryn: Thanks guys 🙂